History of SAS
---
Saskatoon Adult Soccer (SAS) was previously called Saskatoon & District Soccer Association (SDSA) until 2009 when we changed our name to SAS.
Although soccer was played on an intermittent basis before, it wasn't until 1907 that a city league was established in Saskatoon.
As of 2018, Saskatoon Adult Soccer has a membership of 232 indoor teams and 137 outdoor teams. Our teams include Men's, Women's, Masters Men (35+), Masters Women (30+), Legends Men (50+), Legends Women (45+), Co-ed and Coed Masters (30+) divisions.
SAS provides services to adult men's and women's teams but also allows youth teams entry for developmental purposes. SAS players are all 15 years of age and up.
In the early years, the association consisted primarily of immigrant groups who had brought the game and its popularity with them to the Saskatoon area. Over the years Canadians have made the game their own, with membership Canada-wide surpassing hockey.
The SAS is governed by a volunteer Board of Directors consisting of a President, Past-President, Vice-President, Finance Director and up to 11 Directors. The day-to-day administration of the organization is handled by our staff: the Executive Director, the Technical Coordinator, and the Operations Coordinator.
(The history of Saskatoon soccer as well as of soccer throughout the province can be found in the book,

Saskatchewan Soccer: A History by John M. Dewar

)
Our SAS Logo
Our SAS logo includes a representation of the Hugh Cairns memorial statue as a tribute to him and his legacy as well as the 75 other soccer players who lost their lives in the First World War.
The outline of our logo is of a shield in tribute to the Saskatchewan Challenge Shield: this was the highest level of achievement in soccer in Saskatchewan and ran from 1908 - 1938.
The Saskatchewan Shield winners and runner-ups can be found on the Canadian Soccer History website.
Hugh Cairns Soccer War Memorial
In 1921 the Hugh Cairns Memorial was unveiled commemorating local soccer players killed in World War I.
In 1916, at the age of 19, Cairns enlisted with his brother Albert in the Canadian Army. He was killed in action in France on November 2, 1918. Cairns was awarded the Victoria Cross for his bravery in the Liberation of Valenciennes. He was also awarded France's highest honour, the Legion of Honour, and the Distinguished Conduct Medal for his contribution at Vimy Ridge.
Sgt. Cairns is buried just west of the city at
Auberchicourt British Cemetery in Nord, France

.
While Sergeant Hugh Cairns is known as a soldier, he was also an avid soccer player. Cairns played soccer for the Christ Church team while working as a plumber in Saskatoon. He also played for the St. Thomas Church team when they won the Saskatoon League Championship in 1915.
It's his sporting side that is captured in the statue, as his likeness stands with a soccer ball beneath his foot and his hand on his hip.
Hugh Cairns statue and memorial can be found in Kinsmen Park, Saskatoon, where he stands overlooking the field where he played soccer before heading off to war. In dedication, around the base of the statue, is a list of the 75 soccer players who lost their lives in the First World War.
The memorial is reputed to be the only war memorial in the world dedicated to soccer players. It is doubly unique considering that it is found in such a young soccer nation as Canada.
Hugh Cairns Memorial Statue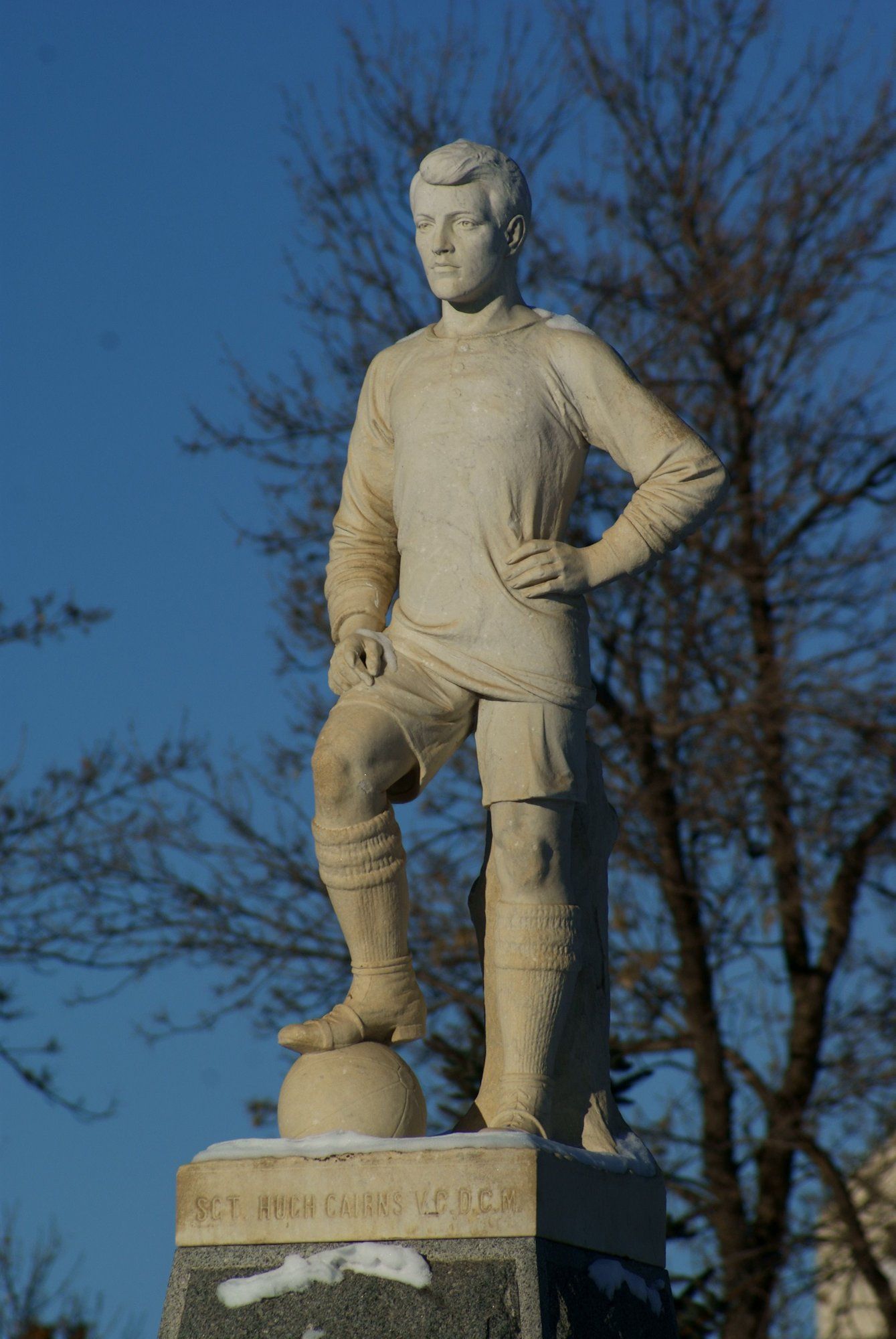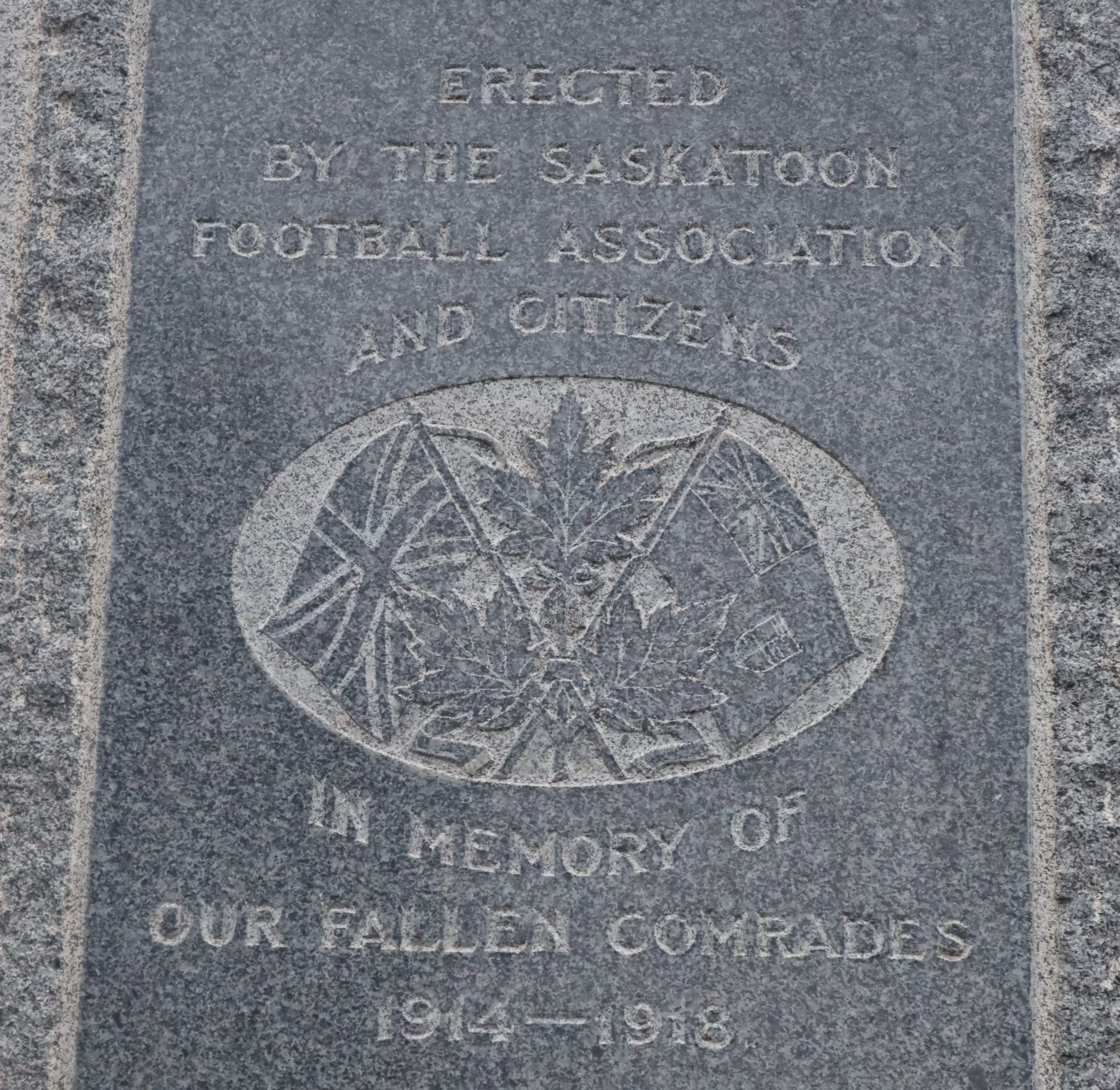 The Saskatchewan Challenge Shield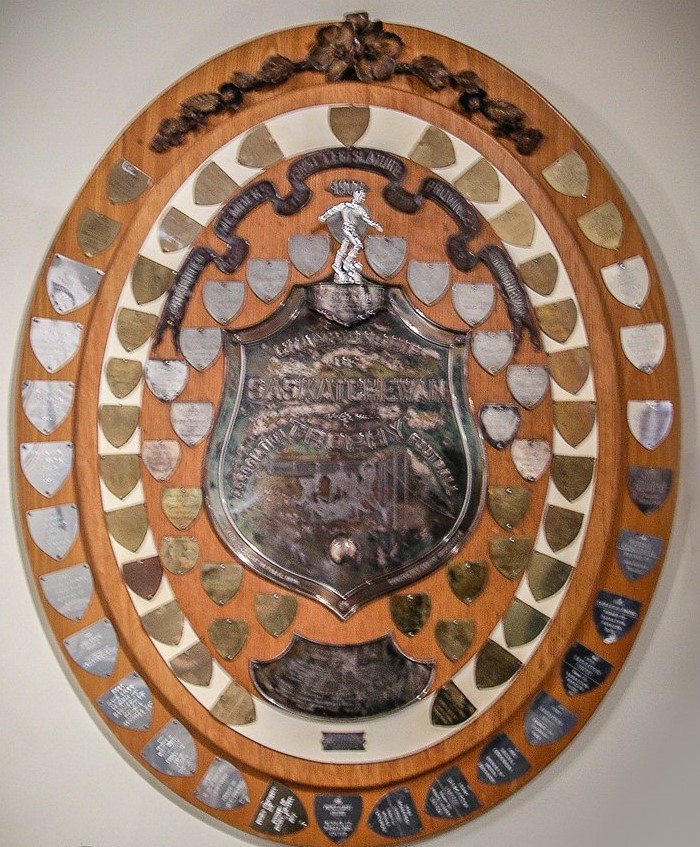 The Shield was Saskatchewan's highest honour in soccer from 1906 - 1946, but without competitions from 1915-1919.
Notable Soccer Individuals
David Newsham
Henk Ruys
David Greyeyes
Doug Knott
Norman Sheldon
John Hayes
Ray Jones
Klaas Post
Cedric Gillott
Percy Hoff
Huw Morris